Ten reasons why I love working outdoors and painting from nature – Part Two.
What does being a painter on the North Devon coast mean to me?
Getting out of your comfort zone.
Getting out of your comfort zone can really test you. This one definitely took me to the edge a few times. Finding light and colour on an overcast day with the threat of rain over your shoulder, adds a certain urgency to your observation, colour mixing and brushwork.
– gouache on Bristol Board, Plein Air study. 10 x 4 inches

Strolling down the coast path behind the sand dunes, warm wind wafting across the bushes. Glimpses of cobalt turquoise sea through the dark trunks and interwoven branches of the pines. Handfuls of sun ripened blackberries picked along the way. Sitting on the warm sand in the shade of the overhanging trees, two ladies and their dog enjoyed the sedate pace of a late September beach day.
– plein air study 10 x 4 inches gouache on Bristol Board .

Fire up your imagination.
Just a short hike down past thatched cottages and a babbling stream, trickling down alongside the tree lined road. You come to a view that has always fired my imagination. A tiny harbour clinging to the sheer cliffs tumbling over a boulder beach, where that stream throws itself down to the shore.
Perched halfway up is a tiny little cabin , originally a boathouse, that two lady artists, Mary Stella Edwards and Judith Ackland, occupied frequently from the 1920's right up until the 1970's. It's contents are frozen in time from the moment they left, preserved for posterity, now owned by the National Trust. On a day like today with a crisp clear light, I had chicken skin thinking of them painting the same views and scenes that captivated me all these years later.
– plein air study 10 x 4 inches gouache on Bristol Board .

Be open to conversations.
Sidestepping goats, walkers and orienteering schools, I hiked up to the highest spot that I could find.
Lynton and Lynmouth and it's breathtaking surrounding scenery was compared to Switzerland by romantic poet Robert Southey.
Travellers in the 1800's unable to take the Grand Tour Of Europe, due to war, nicknamed the area "England's Little Switzerland", which in turn inspired many buildings there to be built in a Swiss style.
Serendipity strikes in strange places. Perched on my high painting peak, I was just about finished with my sketch when a lovely couple hiked up and asked if they could have a look? Always happy to oblige, we soon struck up a conversation, which had me silently guessing where their accents where from? You're one step ahead of me aren't you?
Lucerne, Switzerland the gent said. What are the odds?
– 10 x 4 inches gouache Plein Air sketch.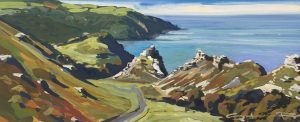 Engage all of your senses.
Tucked out of the wind, toasty on a high tide. Sitting high above Barricane Beach. Laughter and smells of pan fried chicken with lemon and tarragon wafted up the path from the cove.
Lunch was inevitable!
– 10 x 4 inches gouache Plein Air sketch.

8. "Fulmars and Sailboats" – Ilfracombe
Tranquility amongst the hustle and bustle of a hot bank holiday weekend. A small dinghy zipped across the water from a nearby moored yacht. Beached up in the little cove and its lone sailor sunbathed herself on virgin sands and snoozed in the warm, morning sun.
Complete contrast to the thousands of happy bank holidayers enjoying the wide open beaches not more than a few miles away.
– Gouache Plein Air outdoor location sketch. 10 x 4 inches.

Laughter and fun will always win over the showers and clouds. Loved watching the families playing in the shore break along the tideline today. The carefree unleashing of energy that play allows us to indulge in, is a surefire way to lead a more stress free lifestyle.
– Gouache Plein Air study. 10 x 4 inches on Bristol board.

Probably some of my favourite coastal landscapes stretch from Hartland Point South. An incredible contrast of luscious green rolling hills undulating gently until they abruptly get ruptured and thrust first skyward and then brutally halted as if cleaved by the blade of an almighty axe.
Add into this mix babbling streams and cascading waterfalls that tumble down to the sea and you have a pretty spectacular slice of Devon. When you consider yourself against the magnitude of nature's majesty, you instantly feel small and insignificant, a great lesson in humility.
– 10 x 4 inches gouache Plein air location painting.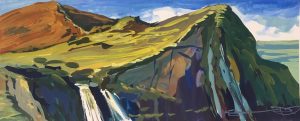 These are just a few reasons that shape my love for living and painting along the North Devon coastline. Every day seems to peel and reveal another layer to its beauty and my place within it.
Have a great day!

Original paintings
These original plein air gouache location paintings come mounted ready for framing and can purchased from my online shop and shipped free of charge.
Click the titles;
Fulmars and Sailboats – Ilfracombe – Sold
Prints
Unframed prints of them can also be purchased online.