Come on a journey with me to discover ten reasons why I love the North Devon Coast
– Part One.
Ten good reasons to love the North Devon Coast.
Inspired by journeys along the South West Coast Path searching for surf spots in the 1990's as a 30 year old surfer.
I revisited ten of the most beautiful spots. Some were still familiar others were fading deep in my memory, it seemed a good time to go and  see them through the eyes of an impressionist painter twenty five years later. The "Sketch to Studio" project began. Ten locations and ten good reasons to love the North Devon Coast.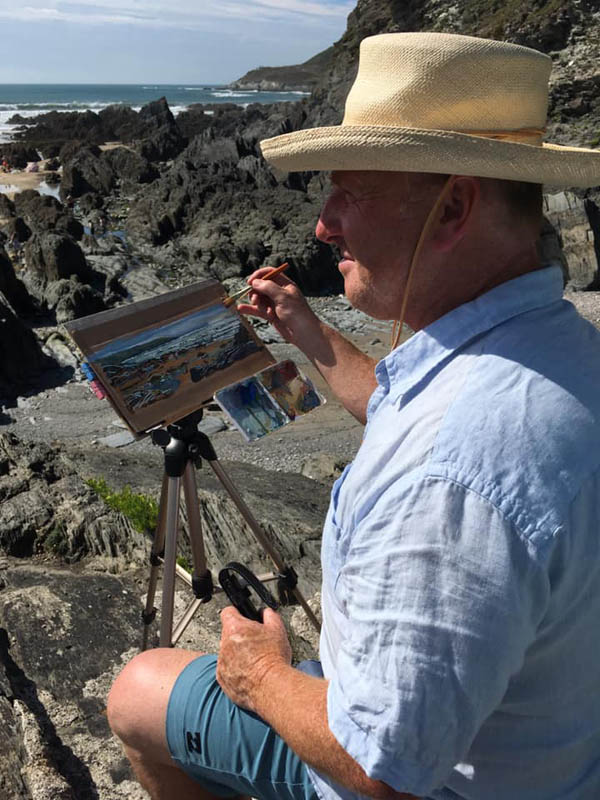 Sketch to Studio
Painting Gouache plein air sketches on location is the perfect way to travel light and capture the essence of each spot, afterwards returning to the studio to work them up into larger panoramic acrylic paintings on canvas.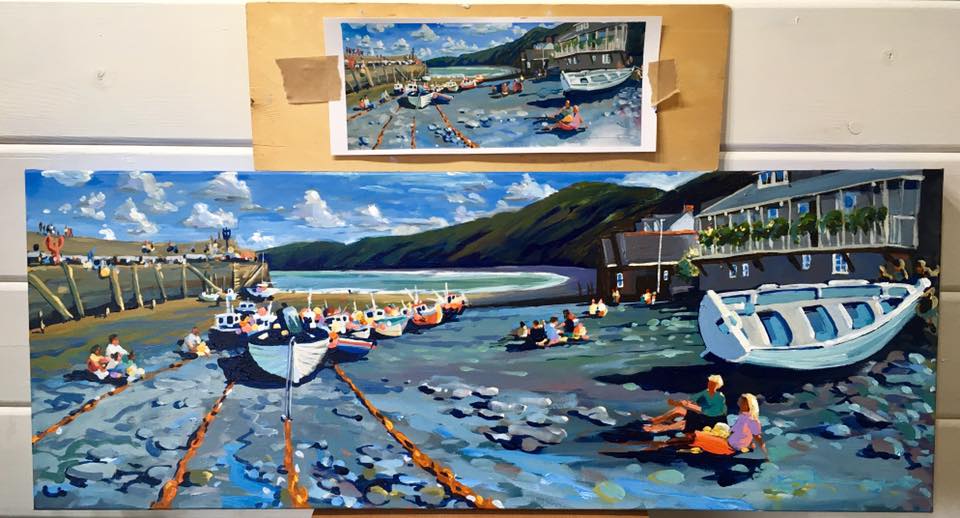 I was amazed how fresh some of the spots still felt to me after not seeing them in person for many years.
Here are the first two locations and I think you'll agree with me that each one has a special beauty that deserves it's spot on my list.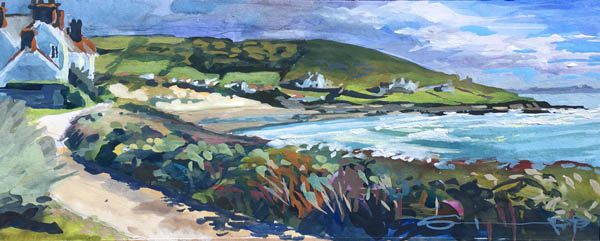 "Keep on walking down to the end!" – when I lived in Croyde , I used to walk this path around Baggy Point most days. It's where the coast path offers you a view of what's ahead. Over to Downed Point, across to Saunton Sands and Westward Ho!
The timing was perfect on this one, as a big grey cloud front passed over heading SE to be followed by blue skies and warm September sun.
I loved the way that the top of Downend Point stayed in the shadow of that front while the point and rocks started to receive the sunlight.
Whilst the village and its architecture changes continuously, the points and the bay still deliver that natural tonic that they always did.
A walk out here sorts you out proper!

"Crab & Lobster Fest, Clovelly Harbour" – nestled in the shelter of the tiny harbour wall, smells of crab and lobster mingled with sun tan cream, real ale and the briny top note of seaweed drying in the warm September sun.
I first visited this spot as a small boy with my family some forty four years ago, I have a cracking little photo of my brother and I holding two spider monkeys grinning with all our might. Clovelly doesn't seemed to have changed one bit. It clings precariously to the sea cliff zig zagging down cobbled streets past brightly coloured cottages, beautifully festooned with overflowing flowerpots. Past inns full of gorgeous smelling food and wafts of ale and laughter bubbling out to greet you.
As you take the first bend the view out across Bideford Bay will take your breath away. Seagulls hovering over small fishing boats, brilliant white against the blue of the ocean, Saunton Sands, Baggy Point and far off into the distance majestic Morte Point.
Parked on a bench where the villagers used to sit and watch for the returning herring boats, you can't blame yourself for drifting off into a romantic dream of coastal fishing village days.
I didn't always find good places to surf on those early explorations, but I certainly found some good reasons why I would end up calling this stretch of coast my home for the next twenty five years.
I hope you'll join me as I continue my journey.

Original paintings
These first two location original plein air gouache paintings can purchased from my online shop and shipped free of charge.
Prints
Unframed prints of them can also be purchased online.