"Autumn Transitions" -Fresh off the easel £325 to buy click here
Steve PP UK Painter
Painting the great outdoors with passion.
Steve PP is a North Devon artist who lives in the beautiful seaside village of Woolacombe, in the South West of the UK.
Steve creates vibrant, colourful landscape paintings in a contemporary impressionist style. Painting direct from nature out on the coast, pushing colour to create paintings that celebrate the connection with nature that makes us all feel good. Putting us all in a tangible connection with our happy place. I aim to paint happiness.
Steve specialises in searching for fresh views and compositions by walking and exploring the coast every day. One of the many rewards of being a North Devon artist. Steve also enjoys travelling and painting new locations lit by strong sunlight.
Click here to shop available artwork
Woolacombe Art Studio Gallery visits
Why not arrange to visit my Woolacombe art studio gallery in person or via a live video call?
You can see what's currently on the easel, browse recent paintings and chat about upcoming projects.
Email or telephone me to arrange a visit.
The Pier Gallery,
Ilfracombe Harbour, North Devon
View Steve's original paintings at The Pier Gallery on the quay, in the picturesque Ilfracombe Harbour.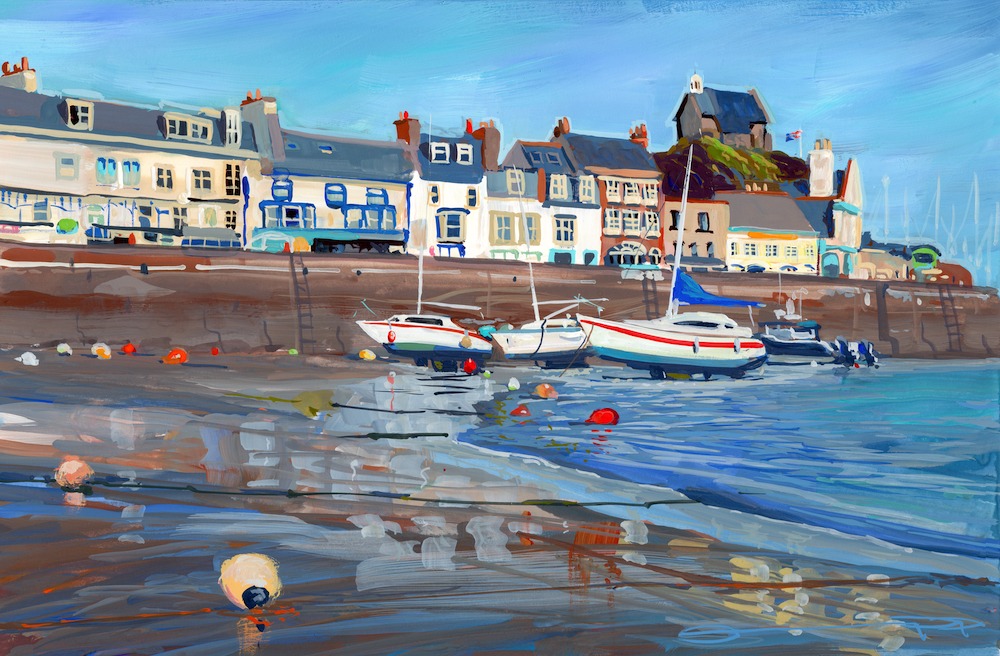 Commission a Painting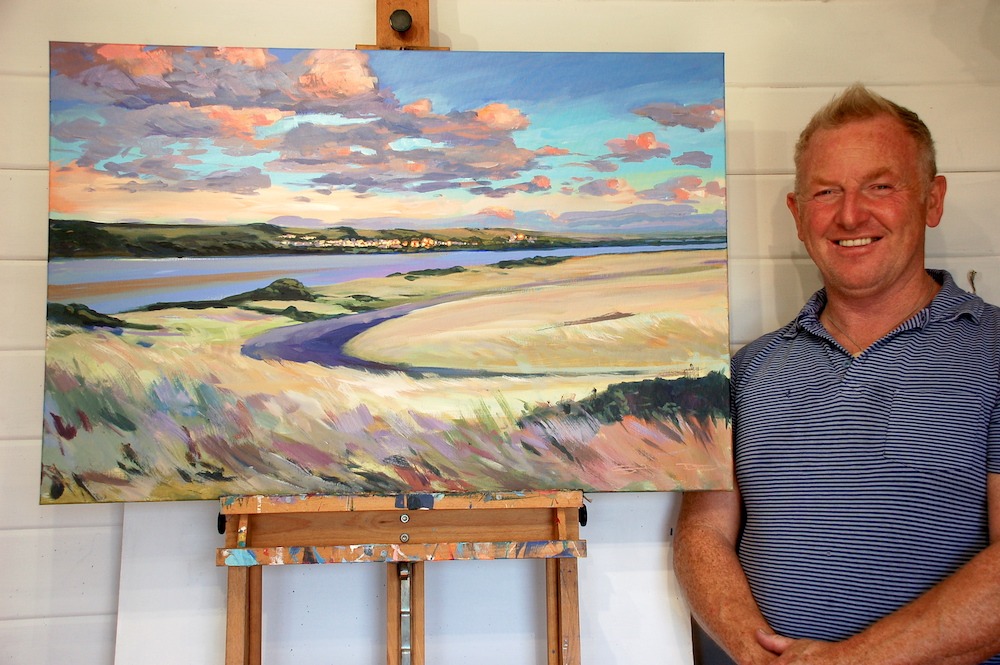 Do you have a scene or view that you would like Steve to paint for you?
Find out how to commission a painting from Steve.
Contact Steve to discuss a landscape painting commission.

Subscribe to StevePP's Colour From The Coast email newsletter and never miss out on the latest paintings, thoughts and promotions from my coastal art gallery and art studio .
Bringing you colour from the coast
Inspired by journeys along the South West Coast Path searching for surf spots in the 1990's as a 30 year old surfer. Steve revisits some of the most beautiful spots. Then sees them through the eyes of an impressionist painter thirty years later on.
First painting Gouache plein air sketches out on location, then returning to my Woolacombe art studio to work them up into larger acrylic paintings on canvas.
Creating paintings that link emotional memories with present day appreciation of nature, into works of art that can bring pleasure, calm and peacefulness into your daily life.
You can also watch Steve Pleydell-Pearce on TV in the Channel 4 series. Showing weekdays on More 4 at 7:55pm and on TV catch up.
"Devon and Cornwall"
See the episode on All 4. Series 2 episode 4 shown on 29th June 2020

Follow
Steve's plein air painting journey on;
Twitter @PPSteve
Instagram @steveppart
Facebook stevepp.artist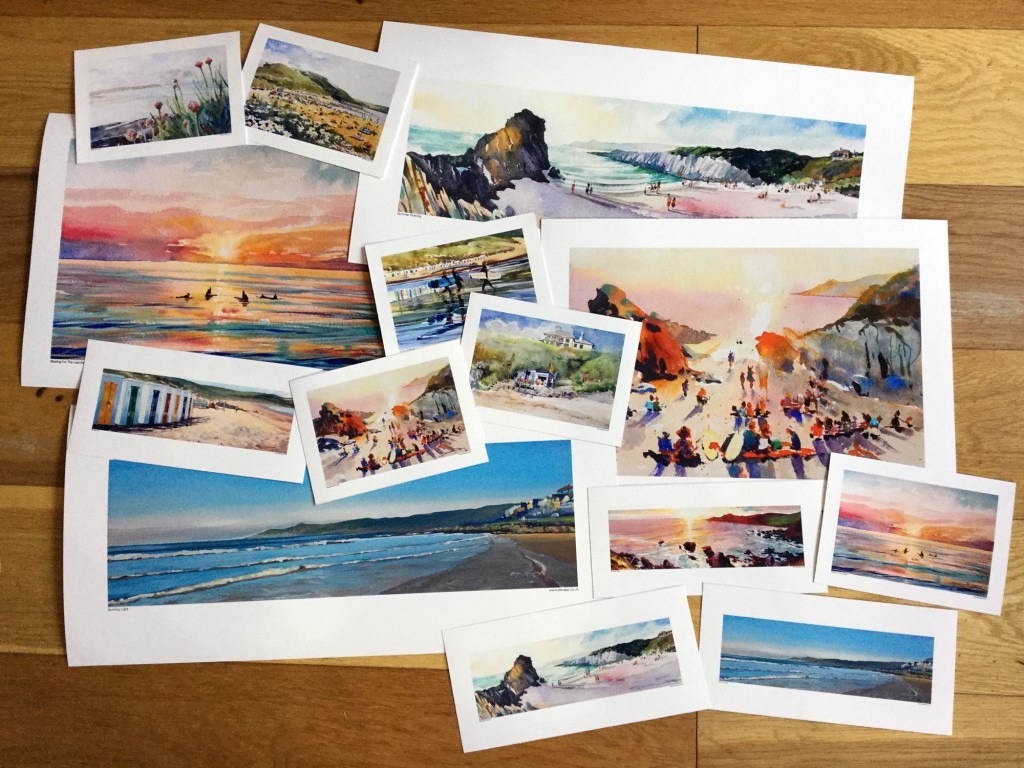 Some of my favourite things about living on the coast in Woolacombe, and being a North Devon artist:
"Early morning walks along Woolacombe beach , foraging for sights and experiences that will fill my day with ideas for paintings. Watching the sunset off Morte Point with family and friends after a swim or surf in the sea. Rounded off with a visit to the Barricane beach cafe for a tasty Sri Lankan curry, followed by the slow amble home to fall into a deep sun kissed, salt enriched sleep!"
"My aim is to create impressionist paintings, filled with sunlight and passionate colour that celebrate the connection with nature that makes us all feel good! When you look at one of my paintings, my aim is to make you feel as if you are stood right there at that moment in time."
"A Perfect Day At The Beach" is a series of contemporary impressionist Woolacombe art prints that sum up how I feel when all of those ingredients come together. Click on " A Perfect Day At The Beach" to see the full range of unframed Woolacombe and Barricane beach prints.
"I work mostly outdoors painting on location. It's out amongst the salt air, wide open surf beaches and dramatic sea cliffs that I feel most at home. Bringing you seasonal notes of colour from the coast. Including vibrant colourful Woolacombe paintings and art from the surrounding coastline of beautiful North Devon."
Subscribe to Steve PP's Colour From The Coast email newsletter and never miss out on the latest paintings and artwork from Steve PP.
Follow Steve PP Fine Art on YouTube, Facebook, Instagram and Pinterest
Painting the outdoors with passion! Steve PP Contemporary Coastal Impressionist.
Woolacombe Art Studio and Gallery.
Website last updated 18 April 2023